According to the International Labour Organization, a specialized agency of the United Nations, over 860,000 work accidents take place every day in the world.
To reduce risks and create better and safer working conditions, the ISO standardisation system has laid down UNI ISO 45001, the first International Standard for Occupational Health and Safety management systems. Its goal is to save human lives and prevent work-related accidents, injuries and illnesses.
Only those companies and organizations who are serious about improving employee safety and implementing relevant policies, processes and checks, succeed in getting this certification.
Atlantic Fluid Tech was already certified OHSAS 18001, the British Standard for Occupational Health and Safety Assessment and decided to speed up and move to the new UNI ISO 45001 standard 6 months ahead of certificate expiration. We got the certification with flying colors and without remarks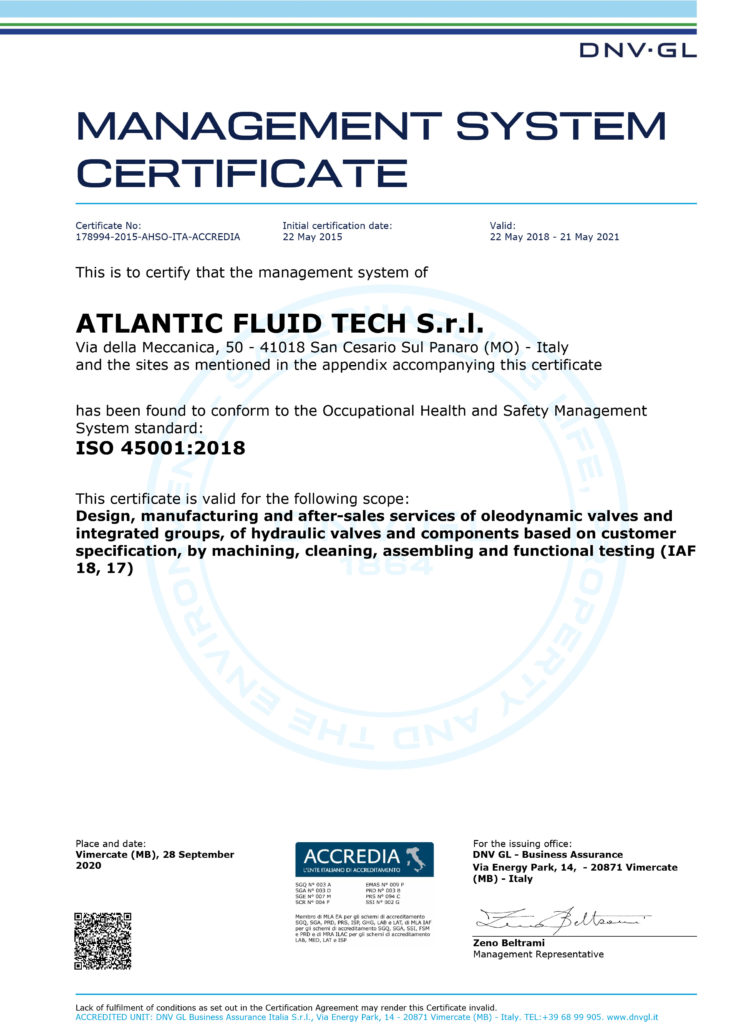 We are really proud of it because well-being on workplace has always been a priority to us.
We spend most of our day at work and we do so for most of our lives. Our workplace plays therefore a major role in our living conditions and that of our families.
Keeping safe and healthy at work is important at any time, but even more so in times like these, when in the fight against COVID-19 pandemic, strict hygienic and safety measures have been put in place to prevent and mitigate any risks for our health.
Providing companies and organizations with innovative tools and effective methods, the new UNI ISO 45001 standard contributes to the 3, 5, 8, 9, 10, 11 e 16 Sustainable Development Goals of 2030 Agenda.
2030 Agenda is a plan of actions for people, planet and prosperity, undersigned on 25th September 2015 by the govenments of the 193 United Nations Member Countries with the aim of stopping poverty, fighting against inequalities, facing climate change and promoting peaceful societies to respect human rights.
This plan includes 17 Goals concerning environment, economics and society and is to be reached by 2030.
We, too, want to do our bit, for a better future.