Since 2015 Atlantic Fluid Tech has adopted an Environmental Management System and got ISO 14001 Certification.
It was a firm company decision to commit to a reduction of environmental impact of its production activities and to spread around its organisation sound sustainability principles.
Final goal is to develop production processes in a sustainable way, retaining the utmost respect for environmental compatibility according to a continuous improvement model.
For a sustainable usage of natural resources, Atlantic Fluid Tech keeps track of a panel of environmental index, such as water and energy consumption and fosters a a strong raising awareness within its organization about correct sorting and disposal habits.
Best achievements were possible thanks to three major projects:
Installation of a thermal solar system, through which since its activation an overall energy saving of 106,000 kW/h has been achieved, for a daily average data of 22.33 kW/h, equivalent to the energy used by a family to heat water for 10 showers.
Disposal and convey to recycling of 96% of its industrial production wastes, such as oily shreds or paper which can be recycled if properly cleaned or generate energy if burnt in special processing plants.
In its production facility where valves are assembled and tested, an energy recovery system allows to reuse the heat produced by a compressors to heat up departments during cold winter times.
But the Company's biggest contribution to the planet lies in everyday's commitment of its technical designers to conceive and develop from the very first design stage, products with a low environmental impact in their entire lifetime.
See in this respect the LIFE CYCLE PERSPECTIVE OF PRODUCTS enclosed here below.
More in details, Atlantic Fluid Tech untertakes:
To design lighter and more compact Valves and Hydraulic Integrated Groups, in order to reduce raw material consumption and its impact on world logistics
To build valves capable of decreasing fuel consumption in machines fitting them
To test and implement solutions for a longer valve lifetime
To comply with latest European Directives to avoid any usage of hazardous substances in production
To use recyclable packaging materials
To share with customers any information regarding the sustainability policy of the Company and its products.
Today, 22nd April 2021 we want to share theme and objectives of the 51st Earth Day, Restore Our Earth.
Not only have we to stop any pollution effects caused by human activities on the environment, but people must now focus on emerging green technologies and innovative thinking to restore the world's ecosystems and fix the damages caused so far.
And Atlantic Fluid Tech will continue to play its part.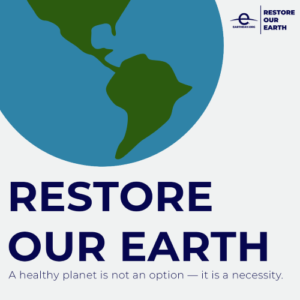 You can download "Product_lifecycle_Prospective_ING.pdf" directly